Remembering Captain Sir Tom and supporting the nation with '100 Little Lifts'
2 June, 2021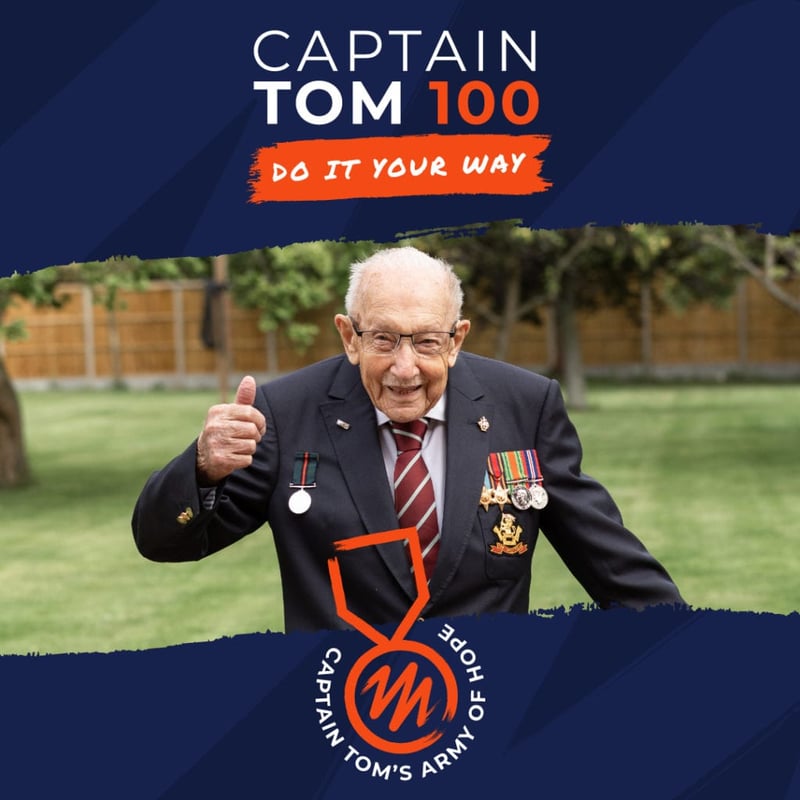 We were honoured to call Captain Sir Tom a cherished Stannah customer. This feeling of pride prevailed when his family and The Captain Tom Foundation — the charity established in the hero's name — contacted us regarding an inspiring new campaign: the 'Captain Tom 100'.
We proudly introduced our special, supporting initiative: '100 Little Lifts'. Here's a snapshot of how we went the extra mile to raise smiles (and life-changing funds):
About 'Captain Tom 100' — a homage to a hero
April 2021 was a special month. It marked a year since Captain Sir Tom Moore set out to walk 100 laps ahead of his 100th birthday to thank our NHS heroes. With every step, he brought light at a time of darkness and rallied a national community. When his mission was complete, Captain Sir Tom had raised an incredible £38.9million for the NHS Covid-19 appeal. His daughter, Hannah Ingram-Moore, commented: "What happened to my father, Captain Sir Tom, in 2020 was truly extraordinary and we were so buoyed by the support we were shown from far and wide which gave him renewed purpose and energy."
On Friday 30th April (which would have been the inspiring veteran's 101st birthday) the Captain Tom 100 charity challenge commenced and ran for three days, until Monday 3rd May. The Captain Tom Foundation encouraged people of all ages and abilities to do '100 anythings' — whether 100 push-ups or baking 100 cupcakes — to honour the record breaker's remarkable achievements, continue his lasting legacy and drive life-changing donations.
You may have seen household names like Dame Judi Dench, David Beckham and Amanda Holden join in on the fundraising fun, or 'Captain Tom 100' trending at number four on Twitter! Remarkably, over 1,100 charities participated, 4,000 fundraising pages were created and 24,000 UK schools received campaign packs to inspire the next generation.
It's fair to say the charity fulfilled its commemorative mission, raising an incredible £1,109,493.55 (and counting)!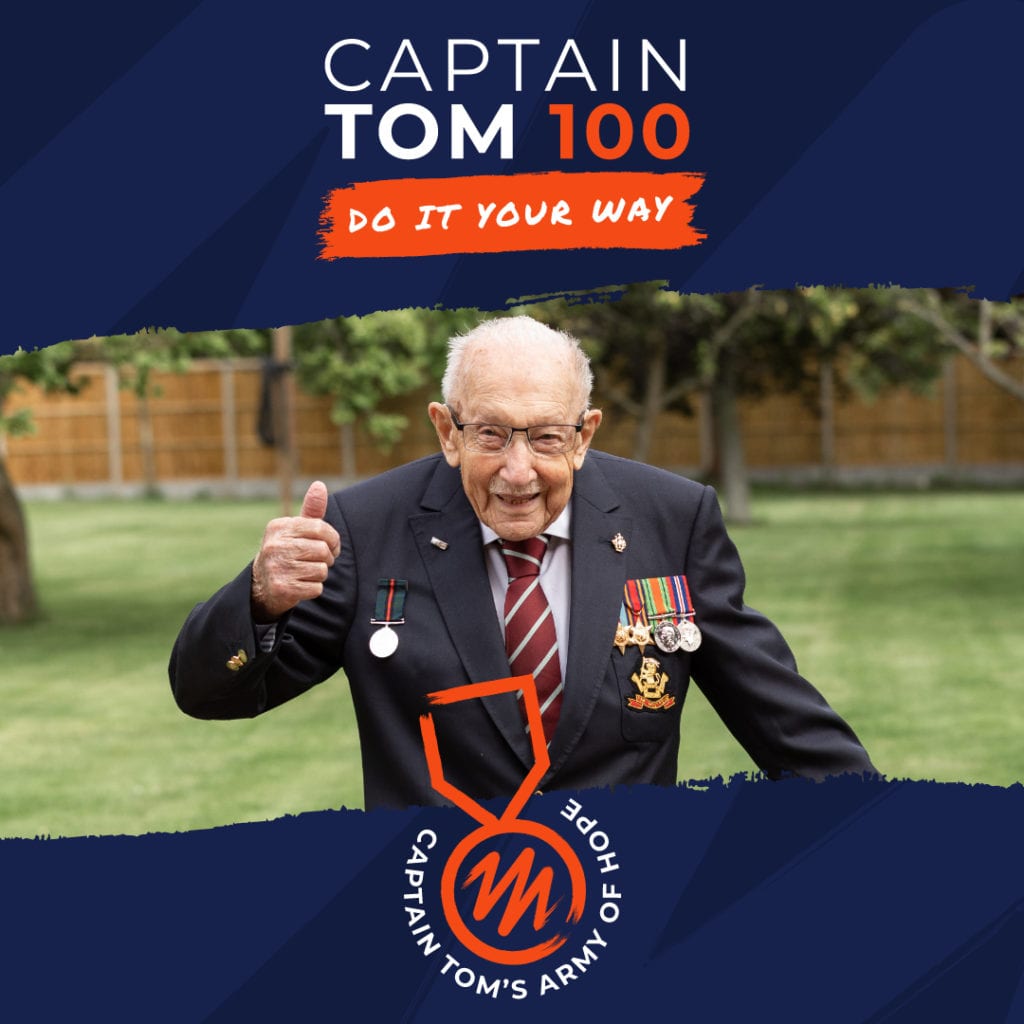 '100 Little Lifts' — our supporting initiative
In the spirit of '100 anythings' and because combating loneliness was a cause close to Captain Sir Tom's heart, we proudly launched '100 Little Lifts'. This inclusive initiative encouraged the nation to give family, friends and their local community a 'little lift' to brighten their day.
There are 100's of ways to show kindness — from sending flowers to a loved one, to smiling at a stranger. Equally, one act (whether sharing an uplifting message on Facebook or posting a positive poster in the window) has the power to make 100 people smile. Or, in the poetic words of Captain Sir Tom — "because one step has the power to inspire one hundred more".
How we helped the nation on their happiness mission
In the spirit of supporting others, we created 'smile files' for the nation to download and ideas to get 'little lifters' started. With every 'little lift', we suggested donating pennies or pounds to the Captain Tom Foundation.
Sweet signs
We created sweet signs adorned with motivational messages — including Captain Sir Tom's inspiring quotes — designed for 'little lifters' to download, print and / or share on social media.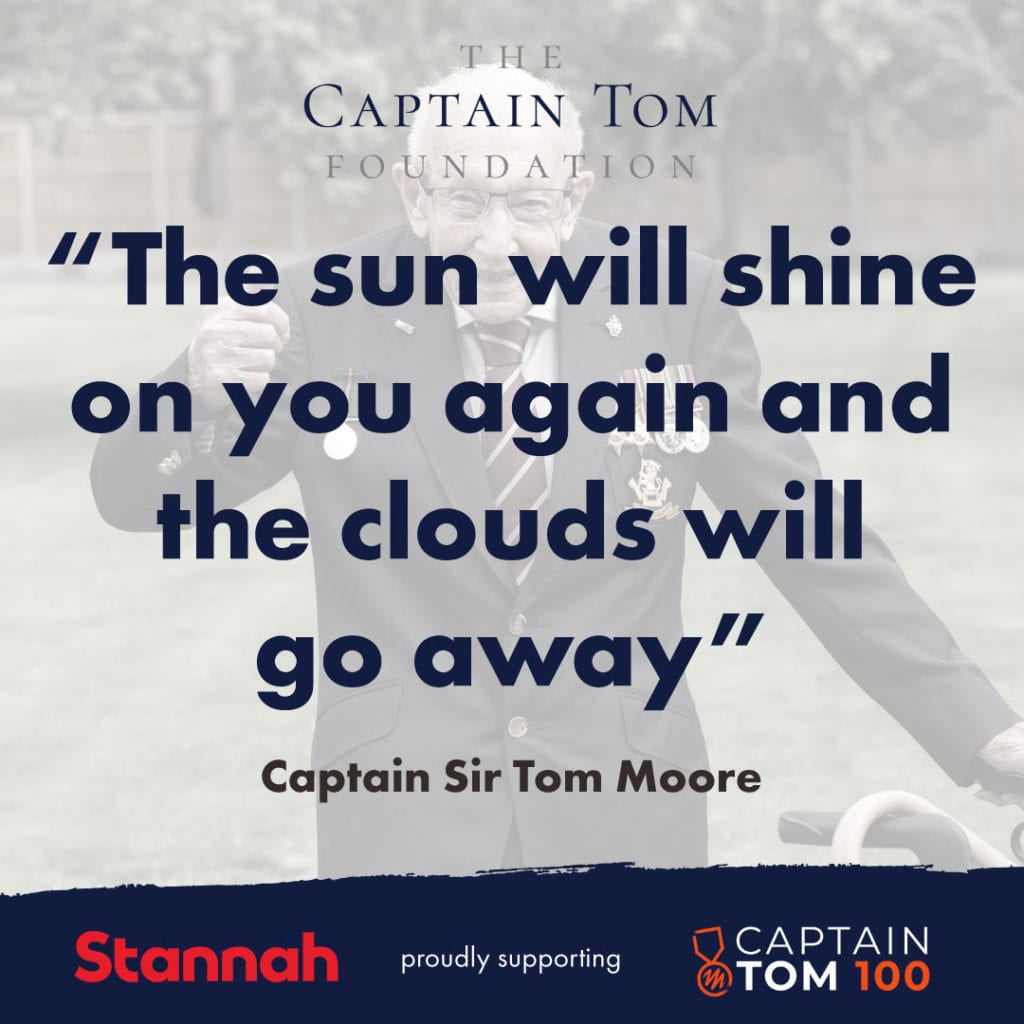 Tailorable templates
There's something so special about handwritten letters. We therefore designed and produced a template for 'little lifters' to jot down personal notes. Popping these in the post, slipping through a neighbour's letterbox or hiding around the home as a sweet surprise for a loved one was all it took to spread positivity.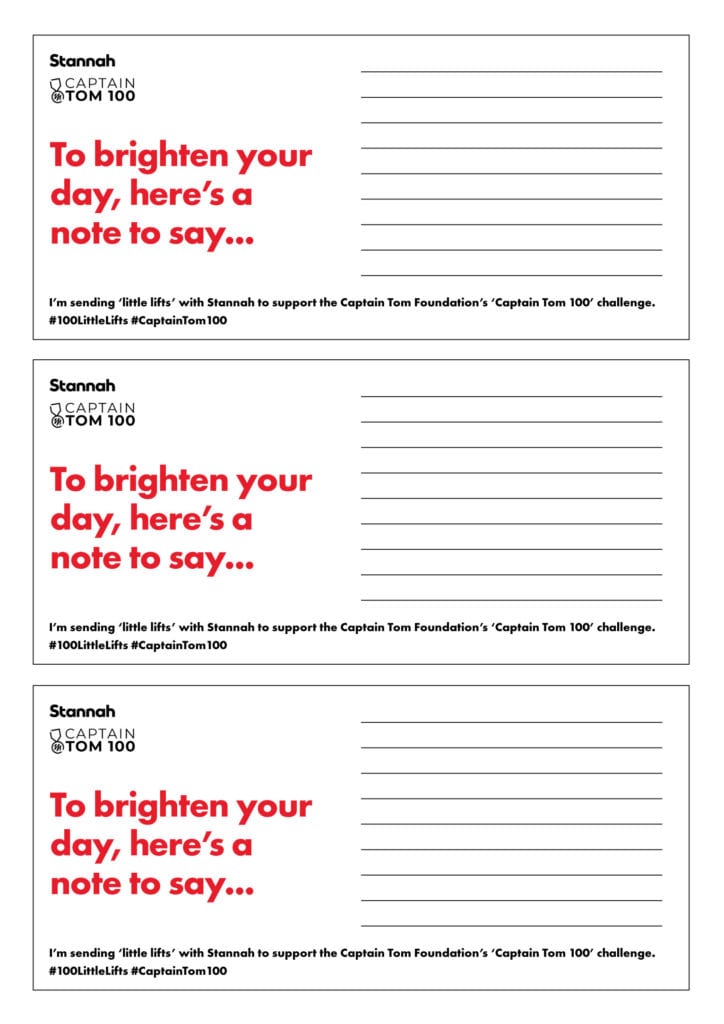 Inspirational ideas
We collated an initial 10 inspirational, inclusive and inexpensive ideas to help the nation give others a 'little lift' — from kind gestures like planting flowers in a community garden, to organising exciting events like a summer picnic. Kindness can be bestowed at any time of year, so read our sweet suggestions here.
Support from our Stannah stars
We are fortunate to work with notable names who share our values and admiration for Captain Sir Tom. Our entertainment aficionado Richard Allinson posted his favourite songs to make his Twitter followers smile, while baking expert Val Stones supported by sharing our social posts.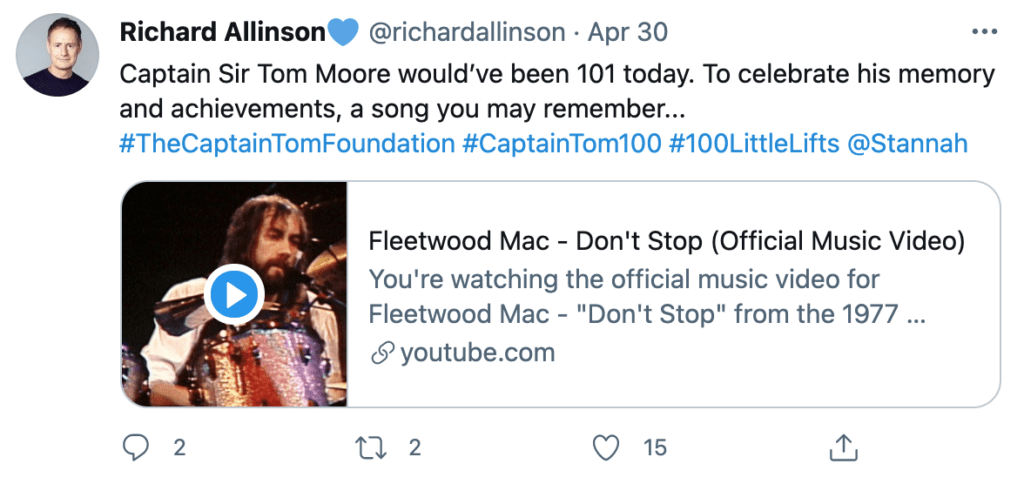 Social media
Social media is a powerful tool in raising awareness and spreading a positive message. Over 176,000 Facebook and Twitter uses saw our '100 Little Lifts' initiative, while 342 shared the posts.
Proceeds of stairlift and homelift sales
To further our support, we proudly donated a proportion of proceeds from UK stairlift and homelift sales across the fundraiser weekend (up until Friday 9th May) to the Captain Tom Foundation. Every contribution helps the charity to continue its important mission: inspiring hope where it's needed most.
A site shake-up
Our homepage was a homage to a hero, as we spotlighted the charity challenge across Stannah.co.uk. Captain Sir Tom's story prevails in pockets of our site; read how his Stannah stairlift enabled him to live later life to the fullest here.
Our team efforts
Our cherished customer moved the whole Stannah team — beyond those who were privileged enough to meet him first-hand.
Our compassionate colleagues interpreted '100 anythings' in their own special ways, with many inspired by Captain Sir Tom's fitness philanthropy. Our HR and reception teams collectively walked or ran 125 miles. Other inspiring examples include Fiona and Marcia from our Marketing departments. Fiona successfully cycled 100k on her indoor bike, while Marcia walked around her local area 100 times, clocking up an impressive 388.63km over four days.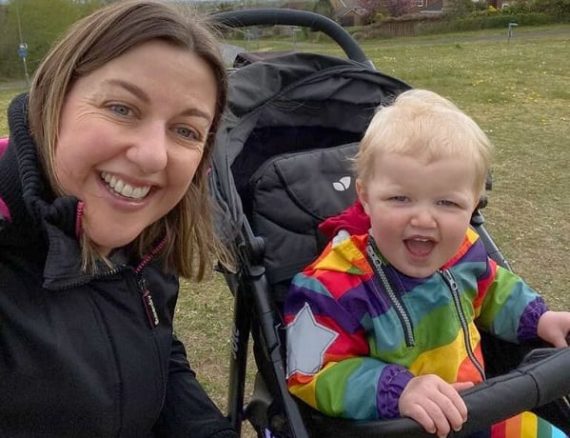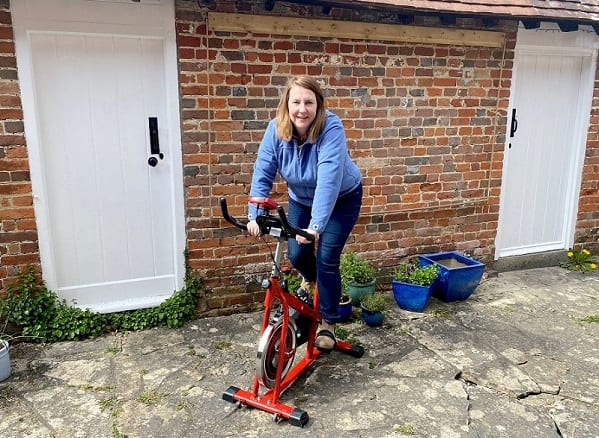 Such fundraisers saw the team raise £1,170 in a couple of weeks. Stannah proudly matched the funding, so The Captain Tom Foundation received £2,340.
From Stannah, to the Captain Tom Foundation — our total in tribute
Overall, we're delighted that Stannah's fundraising efforts contributed an incredible £43,080 to the £1,109,493.55 (and counting) total!
A special Stannah thank you
May we take this opportunity to celebrate all the 'little lifters' who showed kindness to loved ones and their local community. Your thoughtful words and gestures have never been needed more. We're incredibly grateful to the Captain Tom Foundation for thinking of us at Stannah, with a special thanks to Hannah Ingram-Moore who was a sheer joy to work with and shared this lovely note:
"We remain incredibly grateful to our friends at Stannah who continue to support us to help ensure my father's message of hope lives on through The Captain Tom Foundation."
Ultimately, we pay homage to a hero — Captain Sir Tom Moore. He inspired us, united us and reminded us that tomorrow will be a good day… His legacy will make it so.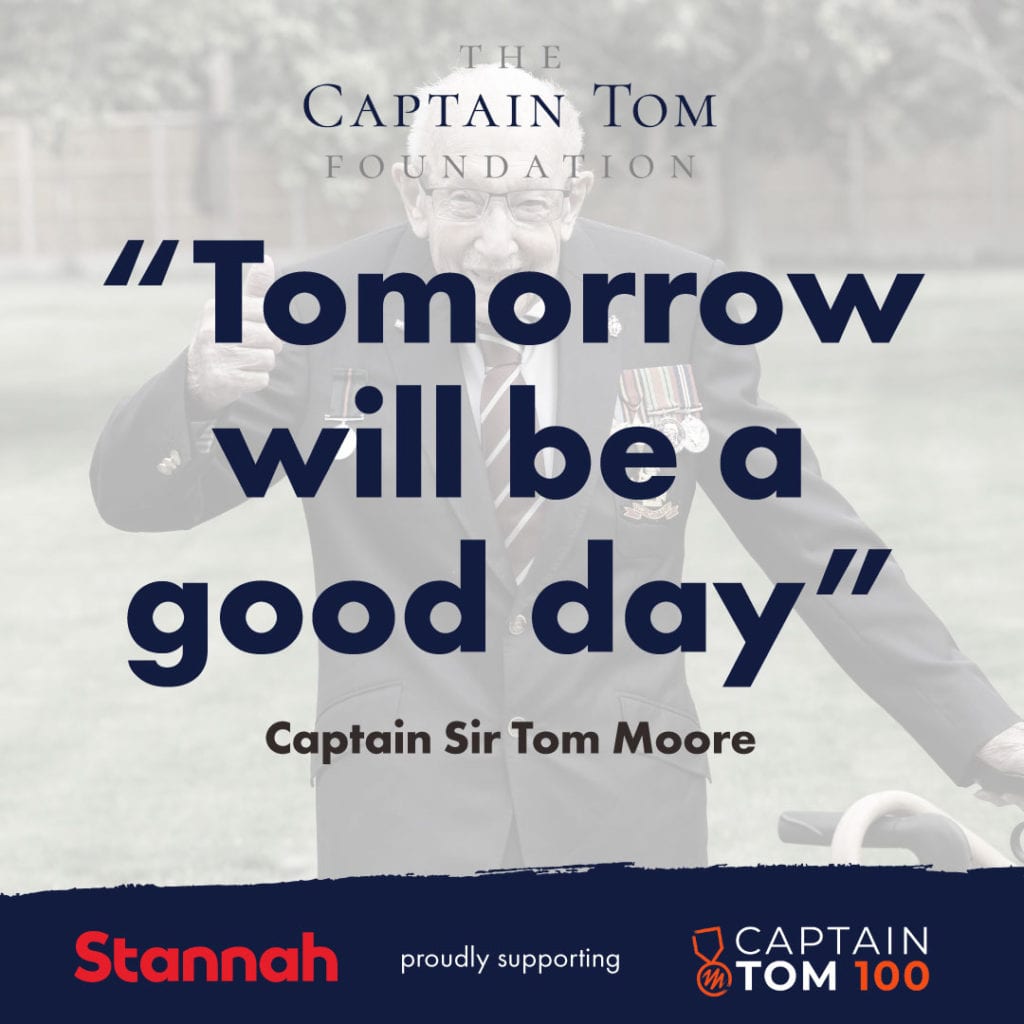 Stairlifts made for you
All our stairlifts whether straight or curved are customised to suit you and your home so call now to arrange a visit to get your FREE personalised quote!