Bradley Went, an apprentice at Stannah Stairlifts Ltd in Andover and a student at Basingstoke College of Technology, claimed the top prize of Level 2 Electrical/Electronic Apprentice of the Year at Basingstoke College 2013/14 annual awards evening.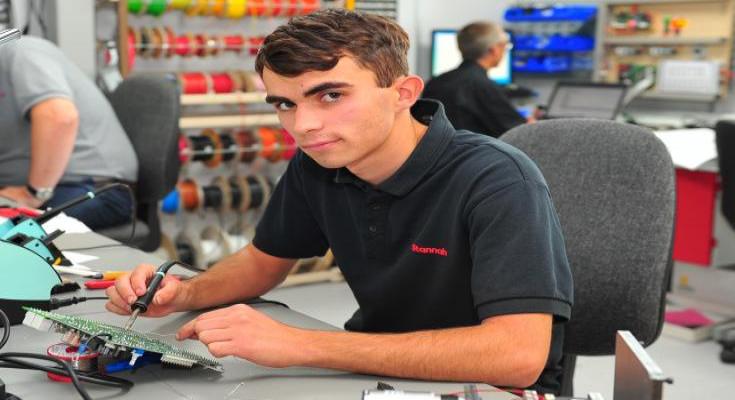 Bradley, aged 18, attended John Hanson School in Andover and won an apprenticeship with Stannah in 2013, working in the Stairlifts production team, as a Technician apprentice.
Everyone involved is delighted to see Bradley rewarded for his whole-hearted dedication to both his work at Stannah and his academic studies.
Basingstoke College of Technology Principal, Anthony Bravo, praised Bradley during the presentation, commenting:
"Bradley is diligent, focused and driven. He works incredibly hard at all tasks he puts his mind to and is never satisfied until he achieves the highest results. His work is always at distinction level and he thoroughly deserves this award."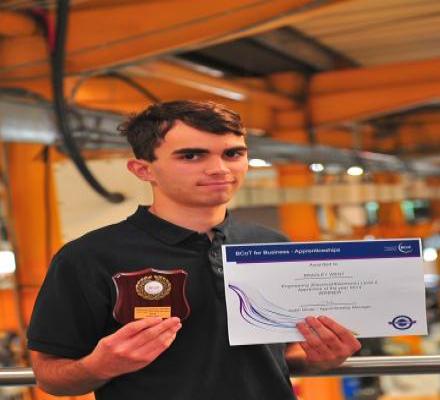 Jacqui Turley, Learning and Development Manager,Stannah Stairlifts Ltd and Bradley's line manager, was thrilled to see her young apprentice receive his award and adds:
"I am delighted for Bradley. He is an absolute asset to our Apprentice team - and his hard work and commitment to both his college work and his work placements have been justly rewarded. He has applied himself wholeheartedly to his apprenticeship with Stannah and is a shining example of how the scheme provides excellent opportunities for both employee and employer.
Bradley is one of seven apprentices currently working in the Stairlifts Division. The Stannah Group currently have 30 apprentices working in 11 locations across the UK and are committed to a continuous programme of apprenticeship placements every year.
Jon Stannah, Joint Managing Director of Stannah Lift Services Ltd, explains:
"Apprenticeships have always been vital to our business. Many of our senior managers began their careers with Stannah as apprentices, so our young recruits can see that with hard work and dedication a Stannah Group apprenticeship can be the start of an excellent career. Congratulations to Bradley for an outstanding year. We look forward to sharing in his future development."
Stairlifts made for you
All our stairlifts whether straight or curved are customised to suit you and your home so call now to arrange a visit to get your FREE personalised quote!