Stannah's largest ever contract helped six Scottish local authorities save over £500,000 by coming together to re-use stairlifts and maximise their resources, whilst at the same time delivering high quality customer care.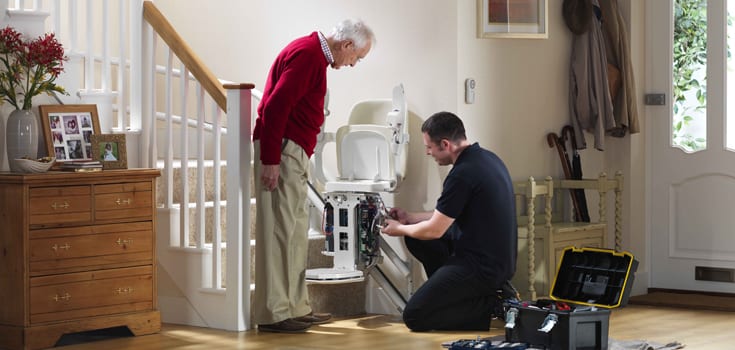 In 2010, Cordia, a Scottish facilities management company for the public sector, awarded Stannah its largest ever contract. Valued at £6 million over three years, it involved Stannah supplying, installing and maintaining stairlifts to residents across six local authorities, including Glasgow, East and West Dunbartonshire, South Lanarkshire, Renfrewshire and East Renfrewshire.
The landmark contract was awarded to Stannah because it was able to demonstrate cost efficiencies, a commitment to supporting local businesses and an ability to meet Cordia's service KPIs. At the same time, Stannah was able to prove that its ground-breaking approach would ensure the delivery and maintenance of high quality stairlifts and excellent customer service.
Stannah, a family-owned company since 1867, was conscious of the need to demonstrate value, but this would not come at the price of the 'Stannah Promise', a commitment to deliver the very highest quality products and services to its customers.
These significant financial savings were achieved by bringing together the stock (both Stannah models and other manufacturers') and ordering systems and buying power of local authorities so they could maximise resources and simplify management. Most importantly, the contract made use of Stannah's re-use scheme, which involves removing stairlifts no longer required, refurbishing them and then re-installing them.
The result of this approach was greater pooling of resources, smaller overheads and a reduced requirement to purchase brand new stairlifts. Accomplishing this level of integration across the local authorities involved the creation of a new online ordering system which allowed stock to be maximised and deployed where required.
At the same time, Stannah was able to ensure it met the contract performance requirements from Cordia, which stated it must respond to a call-out within four days and install a stairlift within ten. A dedicated customer service team ensured that throughout the contract callout help has been on hand every day of the year.
The benefits of this new approach were almost instantaneous. Over the first three months, Stannah made over 200 recycled stairlifts available for re-installation, delivering instant savings. South Lanarkshire saved £160,000 against the cost of purchasing new stairlifts in 12 months, and since 2010 the six authorities have saved a combined £517,428.
In addition, Stannah was consistently able to meet Cordia's KPIs with few exceptions. In total, 100% of stairlifts met the service level agreement, 99% were delivered on time and 98% of straight stairlifts were delivered in 15 days.
Over 3,300 stairlifts have been installed since the contract was awarded and it has worked so well that North Ayrshire – a council that was not originally part of the contract – has joined. Cordia's ambition is that in time all of Scotland's 32 councils will come on board.
Patrick Stannah, joint managing director of Stannah Lift Services, commented:
"This contract demonstrates that if local authorities come together to maximise efficiencies they can make quite staggering savings.

"With councils facing some of the toughest spending squeezes in living memory, it is contracts like these – which pool resources and implement new systems – that can help local authorities continue to deliver high quality care and independence in the home to their residents."
Ryan O'Neil, Procurement Manager, Cordia, said:
"The contract with Stannah has brought significant savings to the local authorities involved. This means we can continue to provide fantastic benefits to all our service users."
Stairlifts made for you
All our stairlifts whether straight or curved are customised to suit you and your home so call now to arrange a visit to get your FREE personalised quote!