**Updated inline with latest news**
With the recent increase in energy prices around the country, it's understandable that everyone is more conscious about their energy usage and how much this will impact their overall bill. To put your mind at ease, we have answered some of the most common questions you have recently asked us about energy usage and running costs of our Stannah stairlifts.
How much does it cost to run a Stannah stairlift?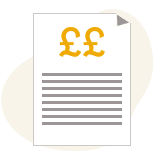 One of the biggest myths regarding stairlifts is that they have very high running costs, but you'll be pleased to hear that Stannah stairlifts are energy-efficient and cost-effective.
On average a Stannah stairlift costs around £2 per month to run, which is cheaper than boiling your kettle!
Based on average running costs and electricity prices as of October 2022.
How does the Stannah stairlift work?
Our stairlifts use a combination of battery and mains power.
They contain two rechargeable 12 Volt (v) batteries that are continuously charged through charging points, also known as 'parking spots'. These charging points can be found on either the top or bottom of your staircase.
Once you have used your stairlift, you will need to use your remote control to place it into the 'parking spot' and charge.
When will I need to replace the batteries?
Our batteries should last around 2-5 years before they need to be replaced. All of our batteries are covered with a 2-year warranty and are fitted by our experienced team of Stannah engineers.
We recommend that you only use our manufacturer-approved batteries and place your stairlift back on the 'parking spot' after every use. Leaving it off of your charging point for long periods of time can decrease your battery life.
To find out more about replacement batteries, contact your local Stannah branch.
If there is a power cut, will I be able to use my stairlift?
In the event of a power cut, you will not be able to charge your stairlift, but the batteries enable you to do approximately 8 return journeys with a single charge.
Here to help you
If you have any questions about our stairlifts or their energy consumption, please get in touch with our friendly team or find your local Stannah Branch.
Stairlifts made for you
All our stairlifts whether straight or curved are customised to suit you and your home so call now to arrange a visit to get your FREE personalised quote!