The way people talk about exercise, you'd think it could cure anything at all; it's been proven to reverse physical decline, protect your brain, improve your mood, and keep your heart healthy. Even if you have never exercised before, it's never too late to begin… In fact, research suggests taking up exercise after retirement can help to prolong your life, increasing your chances of living until 90. It's even been called a miracle drug. The NHS recommends 150 minutes of exercise per week at a moderate intensity (or 75 minutes at a vigorous intensity). Surprisingly however, only 2% of older adults in Britain achieve this. A mixture of cardio and strength-building exercise is recommended.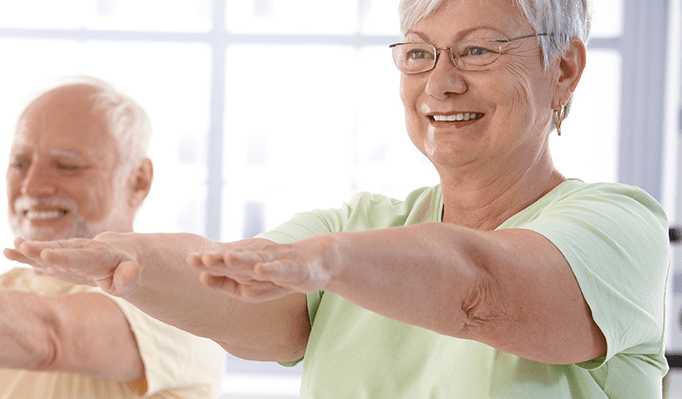 Benefits of cardiovascular exercise
Cardio raises the heart rate, getting blood pumping around your body and the sweat flowing. Its role in maintaining and improving heart health could hold the key to preventing cognitive impairment as we grow older. Some parts of the heart can stiffen with age, with the left chamber more susceptible to age-related damage. This is crucial, as the left ventricle is responsible for pumping freshly oxygenated blood around the body, including to the brain. In turn, the parts of the brain that are susceptible to low blood flow affect memory and are also affected by Alzheimer's. So a healthy heart really does mean a healthy mind. Aerobic fitness can even improve your ability to communicate, with recent research showing that the more exercise you do, the less likely you are to be searching for that word.
Benefits of strength training
The benefits of strength training are many-fold for all ages. Strength training fights the effects of aging by strengthening muscles and increasing muscle mass. This is important because you lose between five to seven pounds of muscle every decade after the age of 20, and strength training is the only way to counteract that loss. Increasing functional fitness helps with everyday tasks, improving balance and core stability, making you less susceptible to a fall. It can help reduce symptoms of osteoporosis and lower back pain, common in older people. It can also improve the quality of your sleep, posture and make you feel more in tune with your body.
Exercise ideas for getting started
Swimming. This is a fantastic option as it's non-weight bearing so it takes the pressure off your joints, while still offering the benefits of a cardio workout. It can be a group activity too, and meeting up with others to exercise is sure to brighten your mood further. If you're feeling brave, you could even try cold water swimming, which this 76 year old swimmer has said makes her heart beat "like a hammer" and she hasn't been ill in 25 years.
Stay at home exercises. Physical exercises don't have to mean a trip to the gym - there's plenty you can do from the comfort of your own home. Stannah has worked with an internationally renowned occupational therapist to develop an exercise program to build strength that can be done at home. It includes three levels; beginners, intermediate and advanced to cater to varying ability, including seated exercises. Find out about the program here.
Find exercise in every day. Even tasks like carrying home the shopping, gardening and gentle housework benefit the body as they create movement. Activity like this also replaces (or breaks up) sedentary time, which has been claimed to be as dangerous for our health as smoking.
Yoga or Pilates. These can be really beneficial for flexibility, core stability and strength, which are key to maintaining independence and preventing falls. They can also be done in a class with others or, if you prefer there are plenty of online YouTube channels where you can bring the workout into your living room.
Exercise for balance. Regular exercise such as Thai Chi and walking can reduce the risk of a fall by 12% in people over 65. Here at Stannah, we have also developed our free Balance app, suitable for all ages. The app takes you through a series of short exercises, taking only a few minutes, in order to improve your balance. These exercises aim to improve bone density, posture and muscle strength.
It's important that whatever stage of fitness you feel you are, you begin within your capabilities. Start slowly, and build up from there, ensuring a mix of cardio, strength and flexibility. Try and find something you like, as you're far more likely to stick at something you enjoy - and it could even double up as a social occasion! If you need additional inspiration or guidance, try our exercises, or even invest in a session with a personal trainer who can get you on the right track safely.
Stairlifts made for you
All our stairlifts whether straight or curved are customised to suit you and your home so call now to arrange a visit to get your FREE personalised quote!