August 2012 Local Coventry woman wins stairlift for Dad while browsing Facebook
A local woman from Exhall, Coventry has won a Stannah stairlift for her elderly father after entering a competition on the company's Facebook page.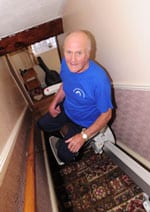 Collette McDaid won the stairlift for her father, 71 year old Victor Palmer, who for the past few years has been reliant on his wife Carol to help him up the stairs in his home and remain behind him in case he toppled backwards.
Victor Palmer, a former machine tool fitter, who has lived in Coventry for 40 years, had a stroke 17 years ago and lost most of the movement in his right arm and leg – meaning moving around, let alone up and down steep stairs, has been a challenge.
Since winning the stairlift his life has been transformed, with Victor able to move around more independently within his own home and also dedicate his time and energies to his hobbies such as gardening.
Collette McDaid said: "I was randomly browsing Facebook when I noticed this competition with Stannah, which I quickly entered because I knew my father would benefit greatly from a stairlift. It was a real surprise when I found out I'd won! The stairlift has been an absolute godsend and has resulted in my dad being less tired and able to do more of the things he enjoys, which of course makes me and mum happier."
Victor Palmer said: "I'm chuffed to bits with the stairlift. It's been really marvellous. I no longer have to rely on my wife to get up the stairs or make sure I don't fall down them and can now spend more time pursuing my hobbies, like gardening. It also means I can keep my current home with my wife, which is good because I wouldn't want to move."
Patrick Stannah, joint managing director of Stannah Lift Services, said: "We're really pleased that our stairlift has had such a positive impact on the quality of life for Victor and the rest of the Palmer family. For people suffering with restricted mobility, a stairlift has the power to completely alter their lives, giving them the independence and confidence to spend more time doing what they enjoy."
Stannah is a 145 year old company that has been making stairlifts since the 1970s and in 2011 celebrated the production of its 500,000th stairlift with a visit from Prince Charles to their Andover-based factory. It now exports 60% of its stairlifts to countries across Asia, America and Europe.
Stairlifts made for you
All our stairlifts whether straight or curved are customised to suit you and your home so call now to arrange a visit to get your FREE personalised quote!