Stannah has launched a new app for its sales staff, which will be able to show customers for the first time what a stairlift will look like in their home. The Stannah app is an augmented reality tool that displays a 3D image of a customer's selected stairlift on a tablet. To create the image the sales consultant puts a special marker on the stairs.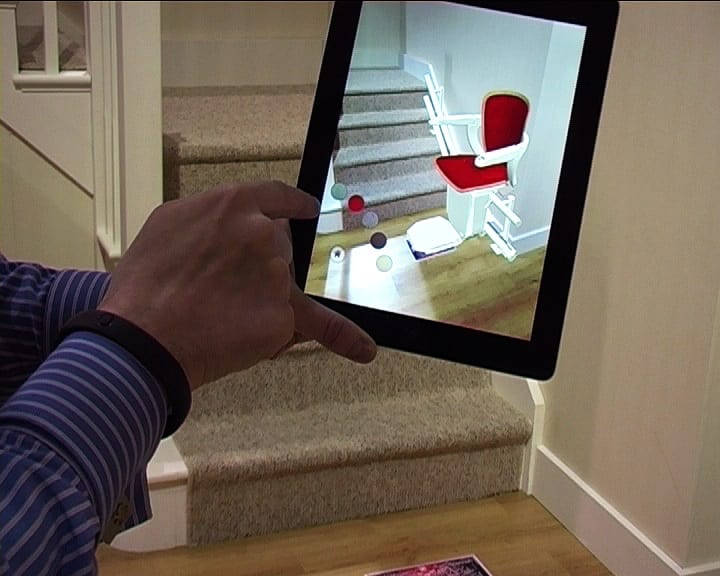 The app then uses the marker to superimpose a 3D image of a stairlift over the picture of the customer's staircase on the tablet. The sales consultant can move the tablet to show the stairlift from different angles. Customers are able to view an animated image moving along the rail and the chair in a folded and unfolded position.
The augmented reality tool has been developed in order to help customers see how a stairlift will fit into their home. Customers can select several different stairlift options, and swap style, colour and fabric, until they find the one that suits them and their stairs the most. Patrick Stannah, joint managing director of Stannah Lift Services, said: "We are very excited to introduce this new app. It demonstrates our unswerving commitment to customer service and the focus we put on giving customers the details they need to make an informed and confident choice."
Stannah's augmented reality app is being showcased on stand C50 at Naidex National 2013, the UK's largest disability, rehabilitation and homecare event. Stannah will be showcasing its family of lifts, giving people the chance to see and experience Stannah's range of products and learn more about how they increase independence and freedom in the home. The Stannah app will be used by all Stannah sales staff across the UK from May 2013.
Stairlifts made for you
All our stairlifts whether straight or curved are customised to suit you and your home so call now to arrange a visit to get your FREE personalised quote!