Thirteen budding Stannah engineers were the centre of celebrations in Stockbridge recently when they received their training certificates, that marked their apprentice graduation, from their management teams and mentors.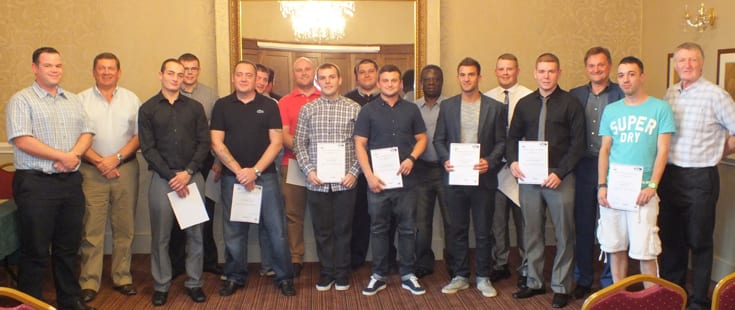 From left to right - Kieron McCormick (Deputy Training Manager), Peter Perry, Bradley Taylor, Ollie Heddon, Matthew Guise, Matthew Hartrick, Gareth Dickenson, Mark Broome, Alan Cross, Matthew Greenfield, Will Roberts (Technical Trainer), Ben Gale, Martin Brown, Martin O'Connor, Jon Stannah, Mark Pears, Mike Wells (Technical Compliance Manager).
Peter Perry, Operations Director, Stannah Lift Services, was delighted to present the certificates and comments:
"We are pleased to be able to offer apprenticeships each year within the Stannah Group and continue to support training opportunities that extend the trainees formal qualifications, confidence and capability. These young people have demonstrated the type of dedication and commitment that will enable them to progress their careers within the lift industry. They are our future and who knows, they may, one day, be the company's management team too.

Apprenticeships offer fantastic opportunities to young people who like the practical work, some payment for their efforts and encouragement for their academic studies. It is a real and valued alternative to full time further education. Many of our graduates will go on to achieve higher qualifications, often sponsored by Stannah."
Jon Stannah, Joint Managing Director, Stannah Lift Services, adds:
"The demand for apprenticeships is huge. In a past year we offered 10 positions and received over 1000 applications. We are proud to say that many of our top line managers have begun their life with the company as an apprentice.

Three years ago the Training Department in Andover became involved in the NVQ process, at first as mentors and then by providing training for the process and finally registering with the Lift & Escalator Industry Association (LEIA) as assessors. This has enabled us to deliver efficient and flexible NVQ qualifications, tailored to the wide range of products that Stannah engineers maintain all over the UK.

Across the Stannah Group we know our people are our most valuable asset. We are proud of all our training programmes and offer training opportunities to all our staff to encourage their further personal and professional development throughout their working lives."
The engineers celebrating their achievements are part of more than 350 Stannah lift engineers, working out of 11 nationwide branches, who look after over 83,000 lifts by delivering 24hr call-out, 365 days a year. The lift products maintained are from all manufacturers, not just Stannah.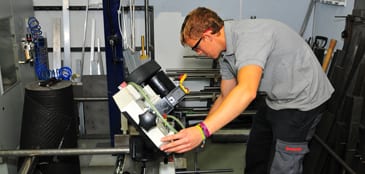 All the successful candidates have completed NVQ Level 3 Engineering Maintenance (lift servicing) and EOR/202 in an Engineering Environment, Basic Lift Safety:
Ben Gale from Brackley
Matthew Guise from Birmingham
Bradley Taylor from Birmingham
Ollie Haddon from Birmingham
Martin OConnor from Glasgow
Martin Brown from Glasgow
Matthew Greenfield from Warrington
Mark Broome from Bristol
Gareth Dickenson from Bristol
Mark Pears from Christchurch
Matthew Hartrick from Christchurch
Alan Cross from Mansfield
Candidates unable to attend to receive their certificates were:
Anthony McAskell from Gateshead
Richard Lawrence from Christchurch
Stairlifts made for you
All our stairlifts whether straight or curved are customised to suit you and your home so call now to arrange a visit to get your FREE personalised quote!