On 23rd November 2017 my uncle and father, Alan and Brian Stannah, were both presented with an MBE by the Prince of Wales, in honour of their services to British manufacturing. This is testament to the hard work of two extraordinary individuals. Together they have made a great team and have created an inspiring legacy – one I am proud to be part of and one that my family and I fully intend to carry into the future.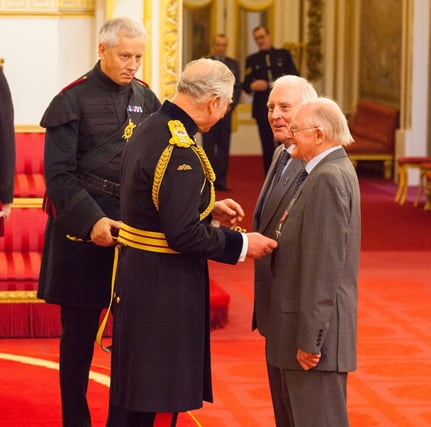 The family business was established in 1867 on the docks of London, producing hoists and cranes. Later, it diversified into passenger and goods lifts, before becoming the household name we know and love today.
Brian and Alan, with their distinct but complementary roles, have been leading and guiding Stannah for over 50 years. Right from the start, their relationship was the perfect business partnership. My father specialised in commercial and marketing matters and Alan in engineering and production operations.
Together they guided Stannah through its most challenging but also its most successful periods of business. Early on, my father realised that it was necessary to build a national service network to support our sales efforts. He could then focus on developing sales, safe in the knowledge that our customers would have local support for service and repair. Alan's focus at this time was to develop a standard range of passenger lifts better suited to higher volume sales and production. He also found Daldoss, an Italian manufacturer of service lifts introducing the Microlift range of service lifts to our product range.
Meanwhile my father was looking at ways of developing the business further. During the tough economic times of the early 1970s, he put the option of stairlifts on the table, giving Alan the difficult challenge of making a product from just a few drawings! The first Stannah stairlift hit the market in 1975. Brian then concentrated his efforts on growing the domestic market yet still found time to start developing our export market. It was this early development of the export sales that gave us a head start over much of the competition and led to our four Queen's awards for export. We have their initial perseverance to thank for the eventual success of the stairlift. To put this into context, in the first year we sold 66 units– these days we sell over 40,000 a year. During this time, Alan played a pivotal role in developing industry standards with the British Standards Institute (BSI) and the International Organization for Standardization (ISO).
It is not only their diligence and determination that has shaped the business, their commitment to both the wider industry and their own employees is also commendable. Here at Stannah, we know that our staff are essential to our business, and we are proud of how they are treated and how they, in turn, treat our customers. To reward staff for their efforts and help them share in our successes, a profit sharing scheme was introduced in 1980 which still runs today.
Together, my father and my uncle have built up Stannah to be what it is today. They have been fuelled by a desire and responsibility to pass on the business to the next generation and to serve our employees and customers. Their individual roles have contributed to British business and Britain's exports in equally remarkable and inspirational ways, and they are both honoured to have received an MBE. A very apt way to celebrate our 150th anniversary and ensure Brian and Alan's legacy will live on within our company.
Jon Stannah
Stairlifts made for you
All our stairlifts whether straight or curved are customised to suit you and your home so call now to arrange a visit to get your FREE personalised quote!