Easter food is often underestimated – and wrongly, in our opinion. We're all on board with the mince pies, yule logs and Christmas cake in December, so why not embrace some tasty Easter treats this year?
From hot cross buns to Easter biscuits, there's something for everyone. Getting grandchildren involved will make the process more fun too, so check out Stannah's top picks.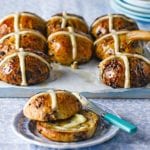 1. Hot Cross Buns
A twist on a classic, with chocolate and ginger for added interest! Lots of our supermarket favourites have been revamping the humble hot cross bun for a few years now, and this recipe is a winner – combining chocolate for the little ones, and ginger for the grown-ups. A delicious treat, topped with some hot butter and accompanied by a steaming cup of tea.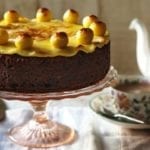 2. Easter Simnel Cake
The ultimate Easter cake, from the ultimate British baker Mary Berry. Never heard of it? It's a light fruit cake with two layers of marzipan, and decorated with marzipan balls to represent the eleven apostles. A sure-fire hit for all the family.
3. Chocolate Easter Nest Cakes
It wouldn't be a proper family Easter without everyone mucking in to make these classic treats. The hardest part of this recipe is melting the chocolate, which bodes well if you're a particularly amateur baker. And if you haven't had a go at the recipe since you were a child, they're bound to taste even better than you remember.
Chocolate Easter egg nest cakes recipe
4. Easter Chocolate Bark
Plump for something different this Easter and gift this interestingly-named 'chocolate bark' to your friends and family as alternatives to Easter eggs. Sophisticated and, most importantly, scrumptious. You can customise it to suit your own tastes too.
5. Easter Biscuits
Even if you claim your cookies must have chocolate chips in, you won't be able to resist these traditional currant-based Easter treats. You can get creative with the icing if you like, but trust us, they taste just as good without any extra flourishes.
6. Carrot Cake Cupcakes
What is more Easter-esque than the seasonal bunny's favourite treat, in cupcake format? As a break from all the chocolate, these perfectly moist mini carrot cakes will hit the spot. Plus they're great for getting the whole family involved for a good ol' decorating session.
7. Chocolate Crispy Cakes
An alternative to the chocolate nest cakes, you can never go wrong when there are melted Mars bars involved. Why not mix it up and use a cereal of your choice to make these individual treats even more unique?
8. Hot Cross Bread & Butter Pudding
A real showstopper! This pudding will never fail to impress the crowds at Easter lunch, and is perhaps even yummier than the original. The addition of lemon curd lifts this sometimes stodgy pudding into something truly delectable – for all the family to enjoy.
Hot cross bread and butter pudding recipe
There's a recipe here for everyone, so why not don your apron this Easter and make for the kitchen!
Stairlifts made for you
All our stairlifts whether straight or curved are customised to suit you and your home so call now to arrange a visit to get your FREE personalised quote!