Our treasured Baking Expert, former Great British Bake Off contestant Val Stones, loves to host at Christmas – but even if you're only catering for you or your household, the festive period is the perfect time for tasty treats. Here, Val shares her favourite celebration canapés.
When I'm preparing for the festive period, I always think of my family's favourite treats. This includes whipping up delicious vegan and vegetarian dishes for my relatives with dietary preferences.
These are two of the most popular bakes I make every year – they're real crowd-pleasers and the perfect size for a party canapé!
Vegan Mushroom Filo Bites
Serving suggestions and timings:
Serves 12

Preparation time: 35 minutes

Baking time: 20-25 minutes

Preheat the oven to 180C fan, 200C, gas mark 6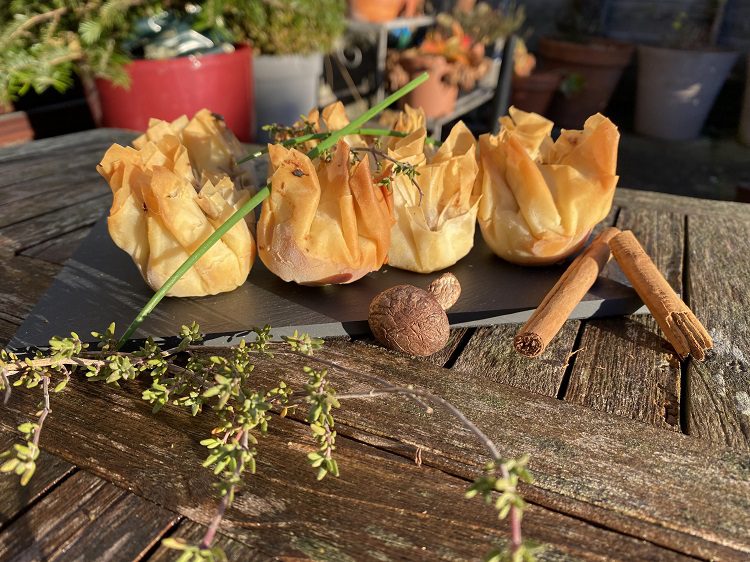 I learned to make my own filo pastry when I was on the Bake Off. It's perfect for canapés because it's light and crisp, but can be tricky to make from scratch, so I use shop-bought pastry in this recipe. While a vegan delicacy, I guarantee that everyone will love them! These bites are so easy to batch bake, you may want to triple the ingredients and make 36 so you have enough to last the whole festive season.
What you will need:
Small saucepan

Damp teacloth for covering the pastry (it dries out very quickly)

Plastic ruler

Pastry brush

Two heated baking sheets lined with baking parchment or silicone sheets
Ingredients:
For the parcels:
1 packet shop-bought filo pastry (thawed)

½ block vegan butter (melted)
For the filling:
2 tbsp olive oil

250g mixed mushrooms (chestnut and shiitake), chopped small

80g red onion, finely chopped

80g sweet white onion, finely chopped
2 cloves of garlic, finely chopped

A twist or two of black pepper

¼ tsp fine sea salt

1 tsp thyme, finely chopped

2 tsp roasted sesame seeds
¼ tsp smoked paprika powder

4 tsps nutritional yeast or white miso paste
Method:
Pour the oil into the saucepan, add all the ingredients for the filling and cook on medium for 10 minutes. Ensure the mushrooms have lost their moisture and the onions are soft and golden brown, before setting the mix aside to cool

.

Lay your filo pastry out, separate the layers, use the ruler to mark 12 equal squares on each sheet, then cover with the damp cloth

.

Melt the vegan butter carefully to ensure it doesn't 'spit' or burn. Brush a little of the melted butter onto your work surface.
Place a single square of pastry onto the buttered surface and brush evenly with butter. Place another square on top to create a star shape with the pastries, then brush again with melted butter. Repeat this process until you have used six pastry squares.
Place a heaped teaspoon of filling in the middle of the top pastry square. Then, gather all four corners very carefully and pinch them together at the top to create a parcel. Repeat this process until you have 12 parcels.
Place the parcels in the freezer for 10 minutes to firm up.
Remove from the freezer and place the parcels on the heated pastry sheet(s) and brush with more melted butter (you may need to re-melt it). Bake for 20-25 minutes. Check the parcels after 15 minutes, but only remove from the oven when they are golden brown and crispy
Once baked, the parcels can be served immediately, or left to cool and kept in the fridge for 2-3 days. They will last frozen for up to 4 weeks. If you freeze them, reheat them in the oven for 10 minutes or until crisp.
Festive Quail Scotch Eggs
Serving suggestions and timings:
Serves 12

Preparation time: 20 minutes

Frying time: 2-3 minutes

Baking time: 8-10 minutes

Preheat the oven to 160C fan, 180C, gas mark 5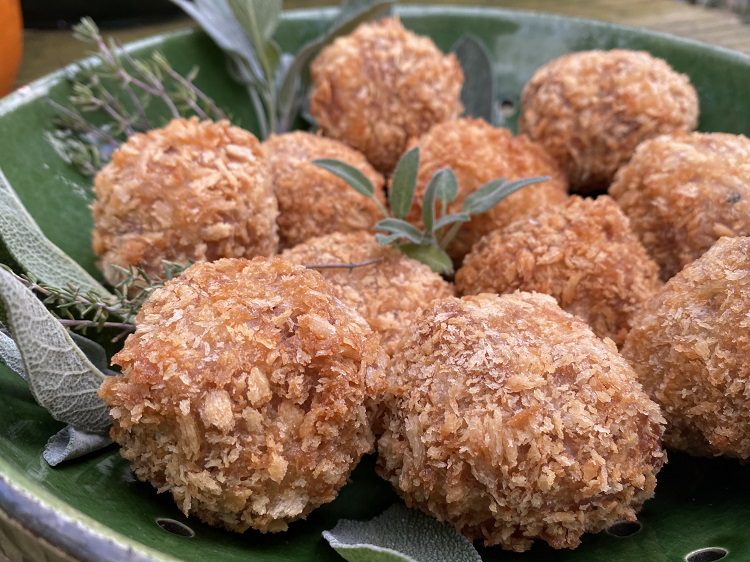 My family adore scotch eggs. The wonderful thing about them is they're easily adapted, so get creative with the additions to the sausage meat surrounding the egg. Finely chopped chorizo, pancetta and herbs or spices make great additions if you want an even meatier bite. Panko breadcrumbs make a brilliant coating as they are crisp and make a crunchy shell. The sage, thyme, nutmeg, and cinnamon in the coating give these bites a punch of festive flavouring.
Make this recipe vegetarian-friendly by using vegetarian sausage meat.
What you will need:
A pan for boiling the eggs

A bowl filled with water and ice cubes

Two bowls deep enough to place in the beaten egg and the breadcrumbs

A deep frying pan or sturdy pan to allow 5cm of oil to be used for frying

Kitchen paper for the eggs once out of the frying pan

A slotted spoon for lowering and lifting the eggs from the pans

Baking tray to finish off baking the eggs

Cooking oil
Ingredients:
12 quail eggs

500g sausage meat

2 fresh sage leaves, finely chopped

2 fresh thyme sprigs, finely chopped

¼ tsp freshly grated nutmeg

¼ tsp cinnamon

1 large egg, beaten

125g panko breadcrumbs
Method:
Fill a pan with sufficient water to cover the eggs, bring the water to the boil and then lower the eggs into the pan. Boil for two minutes for a soft yolk, or six minutes for a firm yolk.

Once cooked, drain the eggs and place in the freezing water to cool quickly. When cold, remove the shells and dry the eggs in kitchen paper.

Combine the sausage meat, sage, thyme, nutmeg, and cinnamon in a bowl, and divide into 12 equal balls (I weigh out 40g per ball)

.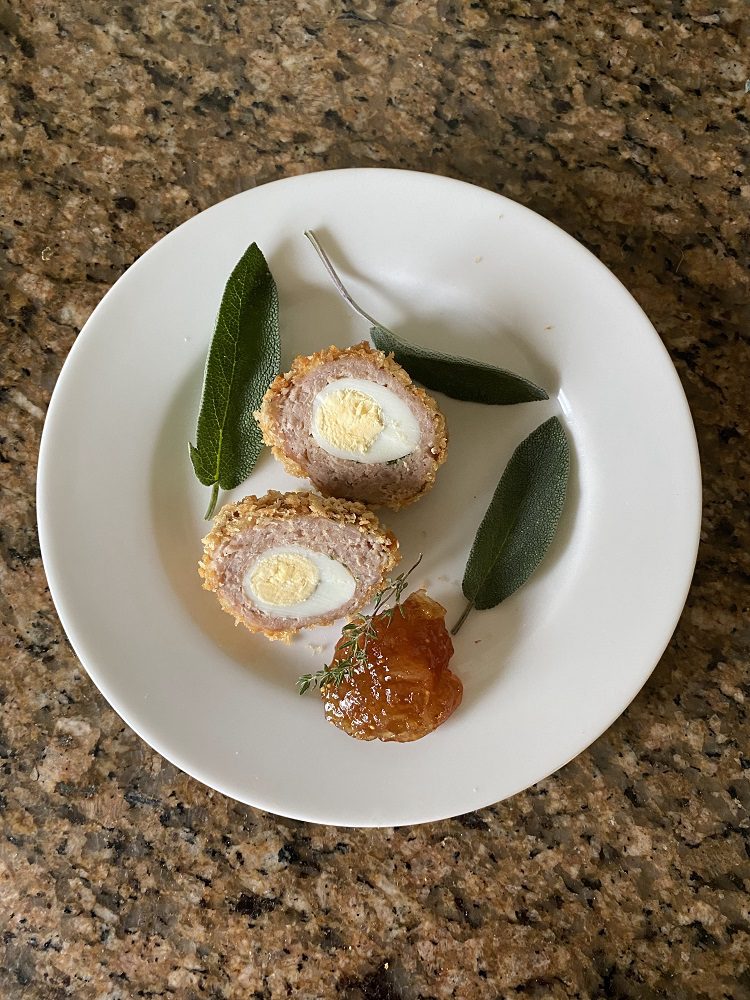 4. With your thumb, make an indent in each ball and place an egg in each. Gently enclose the egg in the meat and seal. Roll into a neat ball and repeat for all 12 eggs.
5. Dip each ball in the beaten egg, allow the excess to drain and then roll in the breadcrumbs.
6. Set your scotch eggs aside, and heat 5-6cm of cooking oil to 180C in your deep pan on the hob. You can test the temperature of your oil by placing a small cube of bread into it – if the oil is hot enough, the cube will be golden and crisp within 30 seconds.
7. Place three or four eggs at a time into the oil and gently swish them around for 2-3 minutes until golden brown, lift out and place on kitchen paper to drain of excess oil. Repeat until all your eggs are fried.
8. Place your eggs on the baking sheet and bake for 8-9 minutes. Serve immediately.
Val takes the culinary crown for festive bakes every single year. Here are some of her favourite Christmas bakes and her twists on festive classics.
Stairlifts made for you
All our stairlifts whether straight or curved are customised to suit you and your home so call now to arrange a visit to get your FREE personalised quote!